Sep 26, 2023
Ragdale Hall Spa upgrades its Thought Zone to a new immersive experience.
Posted by:
Ragdale Hall Spa
As part of the ongoing improvements to the award-winning Thermal Spa, the Thought Zone now transports guests from a small village in Leicestershire to mountainous outcrops, expansive waterfalls and exotic coastlines. A series of 9 projectors cast panoramic sequences seamlessly across the walls and ceiling, providing the illusion that the guest is sitting amidst the scene. Relaxing in a comfortable heat and complemented by soothing music and natural sounds of the environment, guests can find a moment of quiet contemplation, reflection and allow their mind drift off to a far-off place.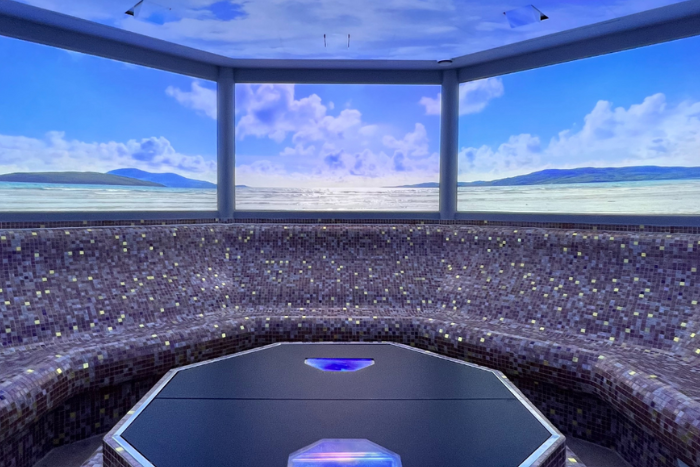 The Thought Zone is designed to improve concentration and mental wellbeing through renewed focus. With minimal distractions the guest has a chance to quiet the mind and gather thoughts.
Ragdale Hall's Managing Director Hugh Wilson stated "The upgrade of the Thought Zone is part of an ongoing plan to further enhance the guest use of traditional heat rooms and bring new thinking to the whole Thermal Spa journey. Guests come to Ragdale Hall to find quality time for themselves or with friends and family and nowadays are more conscious of their overall wellbeing. Guests can enjoy free access to a suite of unique heat and water experiences that will stimulate and provide long lasting benefits."
The Thought Zone re-opened on 6th September and is part of the expansive offer at Ragdale Hall Spa which celebrates its 50th anniversary this year. Ragdale Hall was voted Best Destination Spa 2023 at the Good Spa Guide Awards and looks towards exciting developments in the coming year.
---