Jun 27, 2022
Ragdale Hall Spa crowned the UK's 'Best Spa for Guest Experience'
Posted by:
Ragdale Hall Spa
Leicestershire's Ragdale Hall Spa has been awarded 'Best Spa for Guest Experience' in the Good Spa Awards 2022, alongside being a finalist in the category 'Best Spa for Wellness.'
The award was presented during a Gala Dinner at the annual Spa Life UK Convention held this year at Cotswold Water Park Hotel in Gloucestershire. The annual national awards were shortlisted by the 'Good Spa Spies' who review over a hundred spas each year, before the public voted from a list of the Spies chosen finalists.
On receiving the award, Ragdale Hall Spa's co-owner Michael Isaacs commented: "Our staff team always strive to create the best possible experience for our guests, so to be recognised by being awarded 'Best Spa for Guest Experience' is testament to their hard work."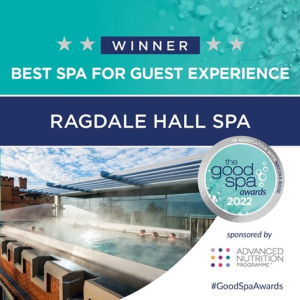 Ragdale Hall Spa is continually investing and upgrading its facilities, so no visit feels the same as the last. Recent additions include the Twilight Bar, a cocktail bar which offers stylish surroundings to unwind in, plus Heart + Soul Fitness, a boutique fitness and wellness experience which includes two fully refurbished studios and a refurbished gym. In addition to offering extensive facilities including six pools and twelve heat and water experiences to aid their guest's relaxation, the staff team focus on delivering a friendly service that exceeds expectations. One recent guest commented about their stay "I feel all staff need to be congratulated as they all contribute to the Ragdale experience, which I feel is the best anyone could wish for".
Ragdale Hall Spa offer an extensive range of spa days, spa breaks and great value special offers to suit every taste and pocket, providing the perfect solution for a much-needed escape, rest and recuperation. For more information visit www.ragdalehall.co.uk or call 01664 433 000.
---